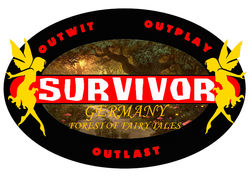 18 Castaways will be dropped of in the middle of the most well-known forest in the world, the Black Forest; known to be the setting of many of the Grimm Brothers Fairy Tales.
Some People were offered but declined were.Morgan Mcleod,Jefra Bland,Danielle DiLorenzo,Marissa Peterson,Rc Saint-Amour,Abi-Maria Gomes,Rachel Folder,Cirie Fields,Eliza Orlins,Natalie Bolton,Jenna Morasca,Danni Boatwright,Laura Alexander,Julie Mcgee & Monica Culpepper.
Some people couldn't because of work including.Bob Crowley,Sherri Biethman,Sugar Kiper,Russell Hantz,Jerri Manthey,Colby Donaldson,Allie Pohevitz,Dawn Meehan,Tony Vlachos,Courtney Yates,Brenda Lowe,Corinne Kaplan,Amanda Kimmel,Parvati Sallow & Andrea Boehlke.
Morgan,Jefra & Eliza quit before filming they were replaced by Kelly Shinn,Hope Driskill & Kim Spradlin.
Stranded in a Forest.It's in a forest then a jungle/island.
Fairy-Tale based tribes.Fairy Tale Based Tribe.
Switch Tribes.Switches Tribes.
Castaways
Edit
Castaway
Original Tribe
Switched Tribe
Merged Tribe
Finish

Laura Morett
Villeneuve
18th

Malcolm Freberg
Villeneuve
17th

Natalie Tenerelli
Basile
16th

Kat Ederson
Villeneuve
15th

Brad Culpepper
Villeneuve
Villeneuve
14th

Amber Mariano
Basile
Basile
13th

Hope Driskill
Villeneuve
Basile
Schneewittchen
12th

Erik Reichenbach
Basile
Villeneuve
11th

Ciera Eastin
Basile
Villeneuve
10th

Spencer Bledsoe
Basile
Basile
9th

Hayden Moss
Basile
Basile
8th

Kelly Shinn
Basile
Villeneuve
7th

JT Thomas
Villeneuve
Villeneuve
6th

Todd Herzog
Villeneuve
Basile
5th

Sierra Reed
Basile
Villeneuve
4th

Boston Rob Mariano
Basile
Basile
3rd

John Cochran
Villeneuve
Basile
2nd

Kim Spradlin
Villeneuve
Villeneuve
1st
Original Tribes
Edit
Villeneuve
Edit
Switched Tribes
Edit
Villeneuve
Edit
Merged Tribe
Edit
Schneewittchen
Edit
Final Tribal Council
Edit
Vote 4-3-2
Voted for
Winner
Voter


Boston Rob (2 votes)


Cochran (3 votes)


Kim (4 votes)

Runner-Ups

Winner